Restoring Homes of Roof and Water Damage After Macroburst With 110 MPH Winds Hits Brookfield, CT
5/24/2018 (Permalink)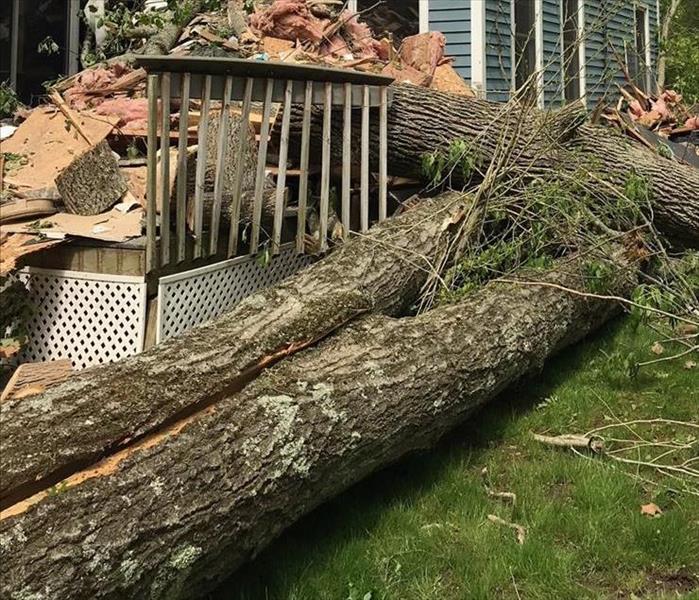 The macroburst that hit the Brookfield area last week had 110 mph winds and caused hundreds of trees to fall on homes.
There is nothing quite like the horrific damage a tornado, or as it turns out we experienced in last weeks storm in New Fairfield and Brookfield, a macroburst. Many of us had never heard of a macroburst, also know as a downburst, prior to several hitting our town. The destruction caused has left many of us stunned and wondering what exactly happened.
According to The Weather Channel, "A downburst is an area of strong, downward moving air associated with a downdraft from a thunderstorm. As the downdraft impacts the ground, the air is forced outwards in all directions while it also curls backwards. This results in incredible wind damage close to the surface of the ground, as well as horizontal rotation midway up between the ground and the base of the thundercloud."
A macroburst, as we had in Brookfield, is a downburst that is larger than 2.5 miles in radius, can last nearly half an hour and produce wind speeds in excess of 130 mph. According to NOAA, macrobursts can produce wind damage comparable to an EF-3 tornado. We experienced wind speeds of 110 mph in the New Fairfield area.
What we have seen over the past week in homes across CT is devastation worse than any hurricane we can remember in Fairfield County. The wind caused trees to fall on homes, resulting in roof damage. Not only have these residents had a tree fall on their homes, they also had water damage due to the rain having gained entry into their homes. Some homes that escaped an entire tree falling on them were damaged by the wind tearing off roofing shingles. We've been busy boarding up broken windows, tarping roofs and restoring homes of water damage.
Our hearts go out to the residents who have experienced loss due to the storm. We urge everyone to take a moment to familiarize themselves with these tornado warning safety tips and review them with their families. We hope that our area is not hit again, but it's always good to be prepared for all emergency scenarios.
SERVPRO of Newtown and Southern Litchfield County is proud to be an active member of this community. We are locally owned and operated, with offices in Brookfield, so we're already nearby and ready to help residents and business owners with any size cleaning or restoration emergencies.