What are the symptoms of mold in your Litchfield County home?
9/21/2017 (Permalink)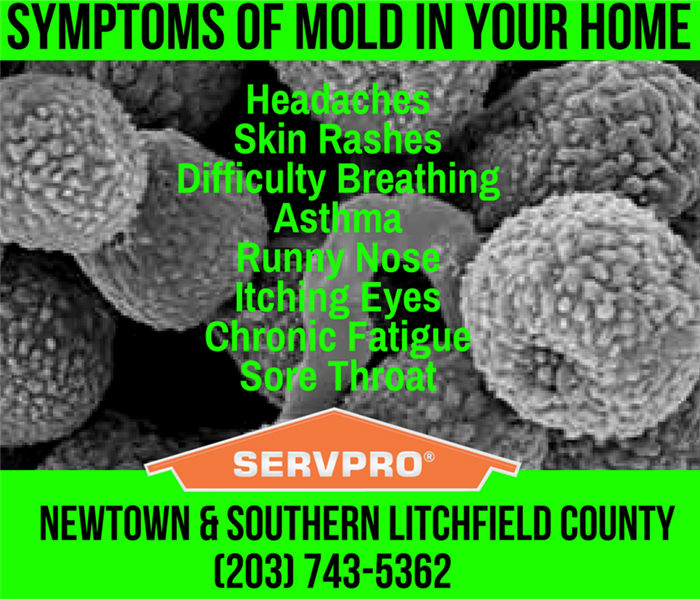 The symptoms of mold exposure in your Bethel, CT home are headaches, respiratory problems, skin rashes and fatigue.
Toxic mold in the home is not always the first suspect when a person feels ill. We recently served a customer who had sudden onset asthma as well as a rash and itching on their legs within weeks of moving into a new home. Despite having multiple tests conducted by their physician to discover the cause, mold was never considered. There was no visible mold in the home nor any known defects that would cause mold. After a friend mentioned the possibility of mold in his new home, our customer had their Washington home tested for mold spores.
There are several symptoms that indicate an exposure to mold, including:
Headaches: Mold spores in the air can cause some people to have headaches. In particular, those who suffer migrane headaches are particularly sensitive to stimulants.
Sore throat: When mold spores get lodged in the throat, they can irritate the membranes.
Shortness of breath: Breathing in mold spores can cause respiratory difficulties in some people. They may even develop asthma or may have asthma and not realize that their asthma attacks are being trigged by the mold in their homes.
Runny nose or sinuses: What may feel like a runny nose from a head cold or seasonal allergies could actually be a sign that you are reacting to mold spores.
A skin rash: Topical exposure is not necessary for mold spores to cause a skin rash. Inhaling the spores can cause this reaction by the body.
Feeling tired: Feeling exhausted despite getting adequate sleep is a sign that your body is being run down by something, and it can be mold.
Sometimes there are no telltale signs that there is a mold infestation in your home however if you are inexplicably experiencing any of these symptoms, call SERVPRO of Newtown and Southern Litchfield County (203) 743-5362 for an inspection.