SERVPRO of Newtown & Southern Litchfield County Cleans Contaminated Air in Connecticut Homes
7/13/2017 (Permalink)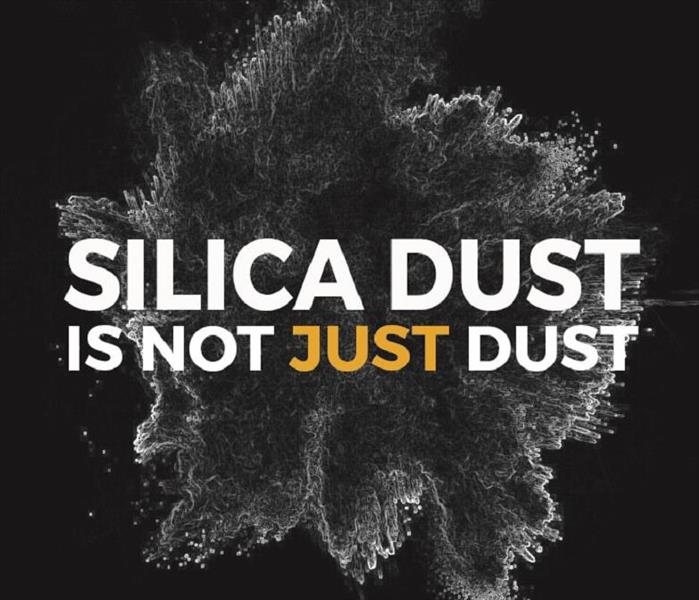 Silica dust from concrete can be hazardous and even deadly. Call SERVPRO of Newtown & Southern Litchfield County if you have air contaminants.
"We had a severe situation with silica dust all over our basement caused by ignorant workers cutting a groove in the concrete floor for a new oil feed line. Dangerous stuff to breathe. The SERVPRO folks had to clean it all up while dealing with our 35 years of accumulated furniture/junk. They handled it all with great patience and professionalism. Thank you Bianca, Junior, et al....!!" - Tom C., Southbury
Our office yields calls from homeowner's who would never dream that their home would be damaged by something like a concrete drilling mishap. Who prepares for that sort of accident?
Silica, often referred to as quartz, is a very common mineral. It is found in many materials common on construction sites, including soil, sand, concrete, masonry, rock, granite, and landscaping materials. The dust created by cutting, grinding, drilling or otherwise disturbing these materials can contain crystalline silica particles.
These dust particles are very small. You cannot see them. It only takes a very small amount of airborne silica dust to create a health hazard. Inhaled dust particles can penetrate deep into the lungs and cause disabling and sometimes fatal lung diseases, including silicosis and lung cancer, as well as kidney disease.
Clearly, this was a dangerous substance that required thorough removal. Our team responded to this call with protective gear, including masks for the residents of the home. We moved the contents of the basement and protected them with plastic. We used air scrubbers and HEPA vacuums to clean the air, as well as the surfaces. Our team then finished up by steam cleaning the floor.
It wasn't a big job for our crew, but an important one. Making sure that the home was safe for this family was our number one priority. If there is an accident that causes air contamination in your Southbury home, call SERVPRO of Newtown and Southern Litchfield County at (203) 743-5362 to make sure the job is done right!