It's Fire Prevention Week- we discuss the cow that may have started it all.
10/9/2017 (Permalink)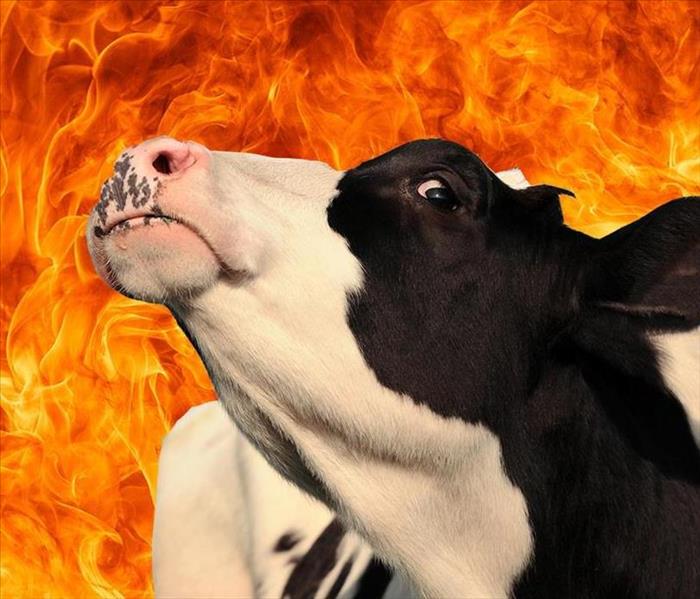 Did Mrs. O'Leary's cow really start the Great Chicago Fire, which is commemorated by National Fire Prevention Week?
Did you know that Fire Prevention Week is on record as the longest running public health observance?
It has been in existence since President Calvin Coolidge proclaimed the first National Fire Prevention Week on October 4-10, 1925. It is observed on the Sunday through Saturday period in which October 9 falls, in commemoration of the Great Chicago Fire, which began October 8,1871, and did most of its damage October 9.
The tragedy killed more than 250 people, left 100,000 homeless, destroyed more than 17,400 structures and burned more than 2,000 acres.
According to popular legend, the fire broke out after a cow - belonging to Mrs. Catherine O'Leary - kicked over a lamp, setting the barn on fire. But is this true?
According to the National Fire Prevention Association:
"Like any good story, the 'case of the cow' has some truth to it. The great fire almost certainly started near the barn where Mrs. O'Leary kept her five milking cows. But there is no proof that O'Leary was in the barn when the fire broke out - or that a jumpy cow sparked the blaze. Mrs. O'Leary herself swore that she'd been in bed early that night, and that the cows were also tucked in for the evening.
After the Great Fire, Chicago Tribune reporter Michael Ahern published a report that the fire had started when a cow kicked over a lantern while it was being milked. The woman was not named, but Catherine O'Leary was identified. Illustrations and caricatures soon appeared depicting Mrs. O'Leary with the cow.
In 1893, however, Ahern admitted he had made the story up.
"Mrs. O'Leary's cow" has attracted the attention and imagination of generations as the cause of the fire. Numerous references, in a variety of media, have been made in American popular culture, including films, television, and popular music.
But if a cow wasn't to blame for the huge fire, what was? Over the years, journalists and historians have offered plenty of theories. Some blamed the blaze on a couple of neighborhood boys who were near the barn sneaking cigarettes. Others believed that a neighbor of the O'Leary's may have started the fire. Some people have speculated that a fiery meteorite may have fallen to earth on October 8, starting several fires that day - in Michigan and Wisconsin, as well as in Chicago."
What we do know is that the fire changed the way firefighters thought of fire safety and how to educate the public and that countless lives have been saved and damage avoided to these efforts over the last nine decades.