Have a kitchen fire action plan when you are cooking this month!
12/5/2017 (Permalink)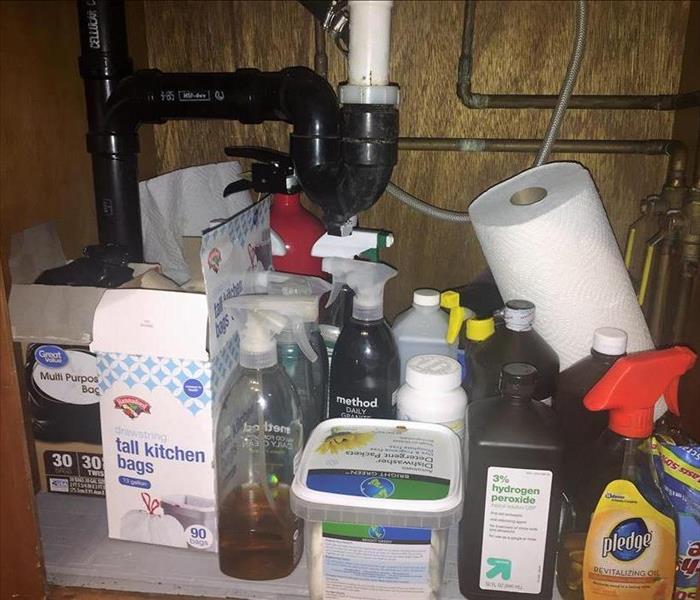 Can you easily find the fire extinguisher under this sink? Seconds count when you have a kitchen fire so keep your extinguisher in a handy place!
Fires that are started from cooking equipment are the number one cause of home fires in the United States. Cooking fires are the most common cause of injury from fire as well. According to a recent study by the National Fire Protection Association, 47% of home fires were caused by cooking.
It's December and with holiday baking and entertaining guests, most of us will be using our kitchens more often than usual. It only takes a moment of forgetfulness for a fire to start in your kitchen and your holidays interrupted. We've discussed ways to avoid kitchen fires in the past. It is also important to know how to extinguish the different types of fire.
Grease fires are the most common type of kitchen fire. Never attempt to extinguish a grease fire with water, as that can cause the fire to spread. The easiest way to smother a small grease fire is to cut off its oxygen source by covering the pot with a lid. If the fire is too large to safely do this, a Class B fire extinguisher should be used if available. If you don't have a fire extinguisher, baking soda can be used in a pinch.
Don't let your Christmas cookies catch fire – keep your oven clean to avoid a grease fire inside and set a timer when baking. If you do have an oven fire, it should be extinguished with a fire extinguisher.
If you have an electrical fire from your toaster or another appliance, unplug it if you can safely do so and smother the fire or use a fire extinguisher.
The common thread to all of the advice in this article is that you should act quickly, avoid the use of water and know where your fire extinguisher is and how to use it! This alone can keep the damage a stove top fire causes contained, rather than your entire home being affected.
Even if you are successful in quickly extinguishing a kitchen fire, there might be soot and smoke that requires professional removal. Call SERVPRO of Newtown & Southern Litchfield at (203) 743-5362 to come out and quickly make your kitchen "Like it never even happened".