Tips to Keep Your Family Safe During National Preparedness Month
9/6/2018 (Permalink)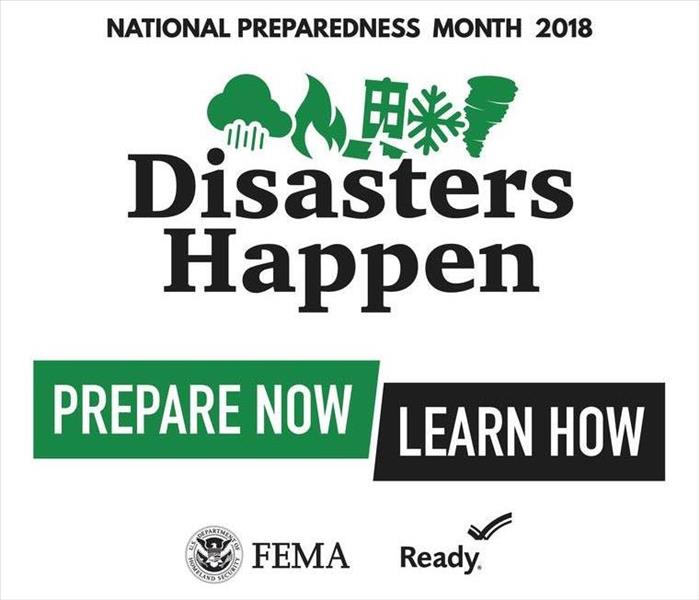 September is National Preparedness Month - is your home and family ready for an emergency situation? National Preparedness Month is a time to prepare yourself and those in your care for emergencies and disasters, both large scale and smaller local events. Here in Connecticut, we know all too well the impact a hurricane or winter storm can have on our daily lives.
Here are some simple steps recommended by FEMA, who is the sponsor of the National Preparedness Month, on how to make sure your family is ready.
The first step is to Know your risk. It is important to understand the potential risks where you live. You can do this by doing the following:
Bookmark weather.gov to stay informed on severe weather.
Learn about Wireless Emergency Alerts, messages that will be sent to your phone during an emergency.
Get practical tips on preparing for disaster at ready.gov.
The second step is to Take action. Make sure that you and your family are prepared for an emergency. Ensure that you can go for at least three days without electricity, water service, access to a supermarket, or other local services.
Prepare a disaster supply kit with at least three days of food and water.
Create a Family Emergency Plan, so that your family knows how to communicate during an emergency.
Obtain a NOAA Weather Radio.
For additional tips and kit information, including ways to involve your family in the planning, visit ready.gov.
If the Brookfield, CT area does get hit with a hurricane this fall, and you experience a downed tree or flooded basement, call SERVPRO of Newtown and Southern Litchfield County at (203) 743-5362 for a 24 hour response to your emergency.