Freezing Temperatures are Forecast for Fairfield County This Weekend- What to do if Your Pipes Burst.
1/18/2019 (Permalink)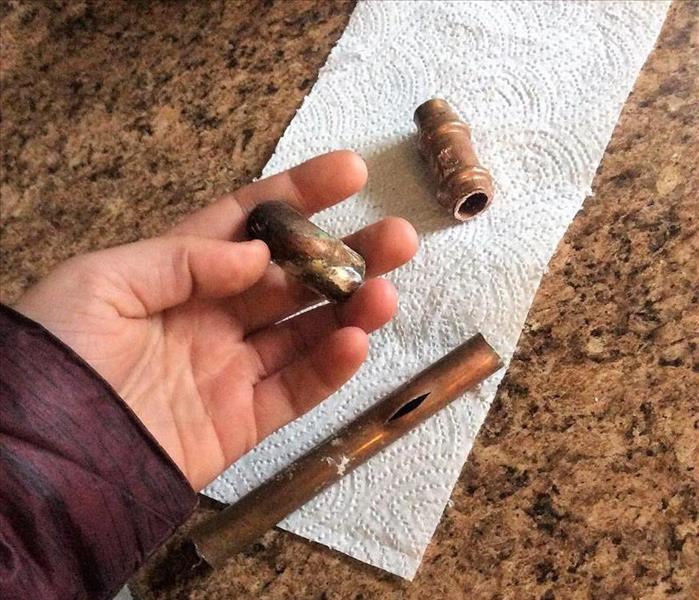 A small piece of broken pipe that burst due to freezing can cause substantial amount of water damage to Newtown homes.
It's been a relatively mild winter in Litchfield County however this weekend the forecast is for snow and the thermometer dropping below zero.
Here at SERVPRO of Newtown and Southern Litchfield County, our main concern on a weekend like this is that the freezing temperatures will cause pipes to freeze and burst in Sherman area homes.
When the outdoor temperatures drop to single digits, the water inside the pipes of a home can freeze. As it freezes, the water expands and creates pressure in the pipes, which can cause them to burst. This will cause a loss of heat to that area of the house and, when the weather warms up, the melting water will cause flooding through the broken pipe.
You can avoid frozen pipes by:
Insulating them - especially those close to outside walls, attics or crawl spaces where the chance of freezing is greatest.
Seal gaps and air leaks around pipes
Disconnect all outdoor hoses and turn off water to exterior faucets and sprinkler systems.
Open kitchen and bathroom cabinet doors to allow warmer air to circulate around the plumbing.
During a cold spell turn on both hot and cold faucets near outside walls to allow a small trickle of water to run during the night.
So, you've followed our advice and you still have frozen pipes? We recommend that you:
Turn on your faucets to determine where the frozen ice is and relieve any pressure in the pipes.
Once you have identified the room that the frozen pipes are located, place a space heater in the room.
Turn your water off at the source to reduce your risk of flooding if your pipes do burst
You can also attempt to warm the frozen pipes with heat tape of a hair dryer.
Call a plumber if you cannot resolve the problem.
You've tried to avoid a pipe burst but it's happened. Now what?
If you haven't already done so, turn the main water valve to your home off and open all faucets.
Make three phone calls:
Call your plumber,
Call your insurance agency
Call your water damage restoration specialist (that's us!)
SERVPRO of Newtown and Southern Litchfield County specializes in restoring homes after frozen and burst pipes have caused water damage.
Call us at (203) 743-5362 if the pipes in your Sandy Hook home burst this weekend.
Our water damage restoration technicians are on call 24/7 to help you when you need it most.