Deciding Whether to Restore or Replace in Water Damage Restoration
3/21/2019 (Permalink)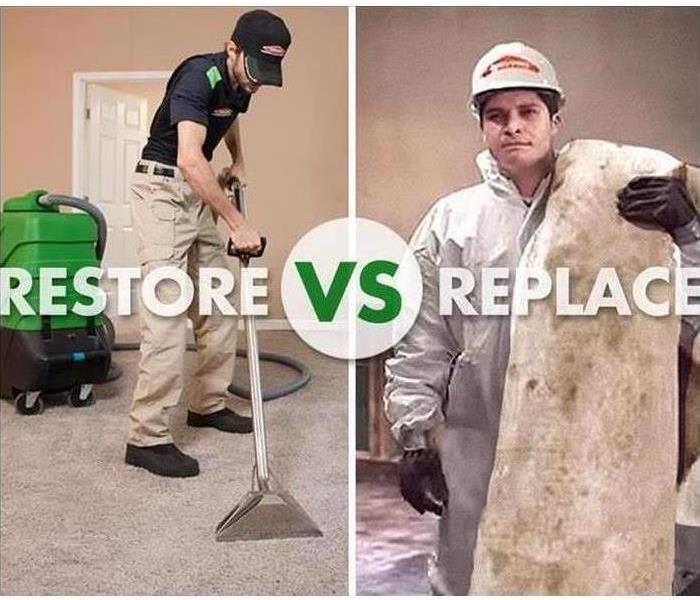 Part of our job is working with you and your insurance company on deciding whether to restore or replace the damaged items in your home.
As a SERVPRO franchise, we adhere to the SERVPRO rule of thumb that restoration is preferable to replacement if possible.
Numerous insurance and restoration industry studies have concluded that restoring property after water damage is less expensive than replacing it. Restoration is also less time consuming and disruptive, meaning our customers can be in their homes and experiencing life as normal sooner after water or fire damage. Bethel area businesses will have their doors open sooner, meaning less revenue lost.
SERVPRO of Newtown and Southern Litchfield County understands that a house is much more than just wood and sheetrock. It is devastating enough to see your antique wood floors water stained or your furniture covered with soot. We aim to restore these treasures, as well as family heirlooms and your children's toys, to make the experience a bit easier for Brookfield area homeowners.
We use several methods in the restoration process including :
Wet Cleaning - An effective cleaning method for removing moderate to heavy residues.
Dry Cleaning - Used for cleaning light residues or to pre-clean prior to wet cleaning.
Spray and Wipe -Effective for items that can't withstand wet cleaning,
Foam Cleaning - Used for upholstery fabrics that might shrink or bleed if cleaned with water
Abrasive Cleaning - Involves agitation of the surface being cleaned.
Immersion Cleaning - Contents are dipped into a bath of the cleaning product.
After your home and possessions are thoroughly cleaned, we remove odors and sanitize them so that they are ready to be returned to your home.
Of course, there are some instances when an item, such as wet carpeting or mattresses, cannot be restored. In these cases, SERVPRO of Newtown and Southern Litchfield County will remove these pieces from your home and discard them ourselves. We work with your insurance adjuster to make sure you are properly compensated for damages.
Our crew and office staff are committed to make your Fairfield County home "Like it never even happened."