Mold Remediation in Fairfield County Schools and Businesses
10/2/2018 (Permalink)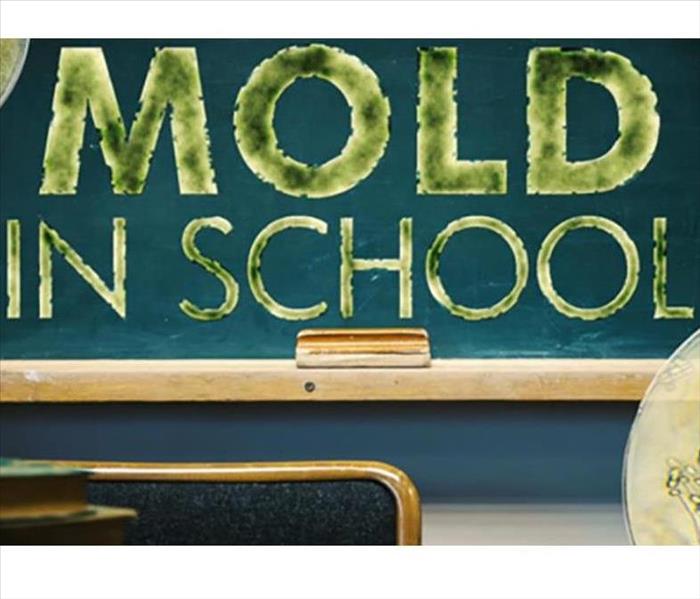 SERVPRO of Newtown and Southern Litchfield County provides mold remediation in schools and businesses in the Brookfield, CT area.
Mold infestations in schools and commercial buildings are a common problem in Litchfield and Fairfield Counties. As commercial buildings grow older, they become increasingly vulnerable to mold due to factors like leaky roofs, a tendency towards moisture retention and the erosion of waterproofing material.
Mold Risks in Schools
Unfortunately, the school setting often creates the right condition for the development of mold. This risk can increase as the school ages. Common areas for mold growth include storage closets, cafeterias, locker rooms, and bathrooms. The mold spores can then circulate throughout the school by way of the air ducts, one of the major factors contributing to "bad air." Clean ambient air quality provides a safer environment for our students.

For the prevention of these fungi from spreading in school buildings, it is important for school officials to have regular maintenance work and inspections scheduled and completed. The EPA has a comprehehsive list of ways that schools can reduce the chance of mold spores growing. Since malfunctioning HVAC systems and leaky pipes are the most frequently reported causes of mold proliferation, having this equipment and plumbing checked can drastically decrease mold growth in schools, or hopefully, prevent its occurrence.
Mold Risks in Commercial Buildings

Just as school buildings are susceptible to mold infestations, commercial buildings can become a hotbed for the fungi. One of the common places for mold to grow within the commercial setting is the HVAC system. The systems that are not functioning optimally or are ill-equipped to handle the workload can generate moisture buildup. This can lead to mold growth as the spores within the air ducts will adhere to organic matter and develop into mold colonies. The mold can now spread throughout the office via the A/C network. SERVPRO can inspect and, if necessary, clean, sanitize and deodorize the HVAC system as part of a regular maintenance and cleaning program.

If you haven't had your New Milford area school or business inspected for mold, call SERVPRO of Newtown and Southern Litchfield County at (203) 743-5362 to schedule one. Our mold specialists have decades of experience in this business and know where to look and what to look for when inspecting for mold. They will give you an honest assessment of whether remediation is necessary and also recommendations on how to prevent an infestation in the future.