Dispelling the Myths About Your HVAC system
6/10/2019 (Permalink)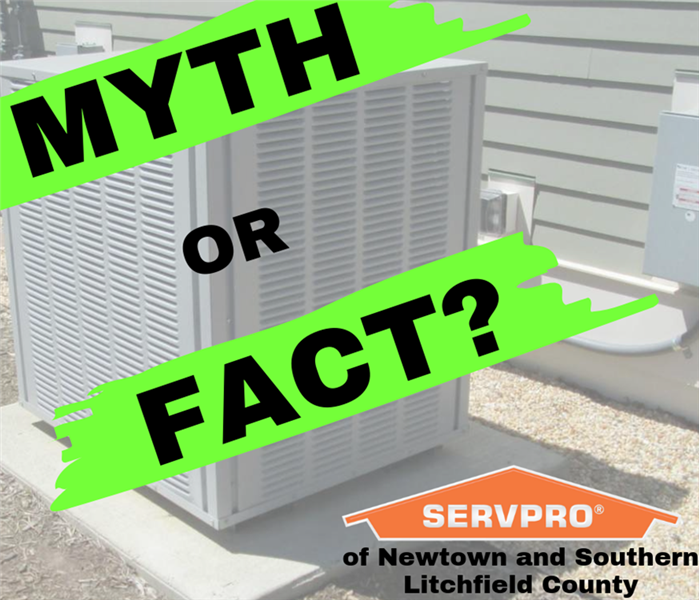 Summer is almost here and all of us at SERVPRO of Newtown and Southern Litchfield County have been enjoying these warm days.
Along with enjoying the beaches of Candlewood Lake and the many festivals that Connecticut has to offer, the warm weather means most of us will be turning on our air conditioning.
In this blog post, we bust some of the myths associated with air conditioning in your home.
MYTH: Turning the AC off during the day or when you are not home will lower your electric bill.
FACT: Re-cooling a hot home uses more energy than running the AC consistently.
MYTH: Ceiling Fans help cool the air and you should leave them running when you are not in the room.
FACT: Fans don't cool air - they move the air and cool people. Use ceiling fans when you're in the room, but turn them off to save electricity when you leave.
MYTH: You should turn the temperature down to a very low temperature to speed up cooling.
FACT: It takes the same amount of time to reach a desired temperature regardless of how low you set it.
MYTH: It's a waste of time and money to have your air conditioner serviced.
FACT: Regular service can keep your unit running smoothly and efficiently. When technicians come out to service your A/C unit, they're doing a full checkup of the system – making sure coils and filters are clean, looking for leaks, and double checking that parts aren't on the verge of wearing out.It also provides an opportunity to catch problems that might have developed over the winter, such as leaks or wear that can cause water or mold damage to your system.
Get ready for the warm weather and call SERVPRO of Newtown and Southern Litchfield County at (203) 743-5362 to have your ducts cleaned this spring.