Spring is (almost) Here! Call us to Get Rid of the Winter Grime at Your Commercial Property!
3/3/2020 (Permalink)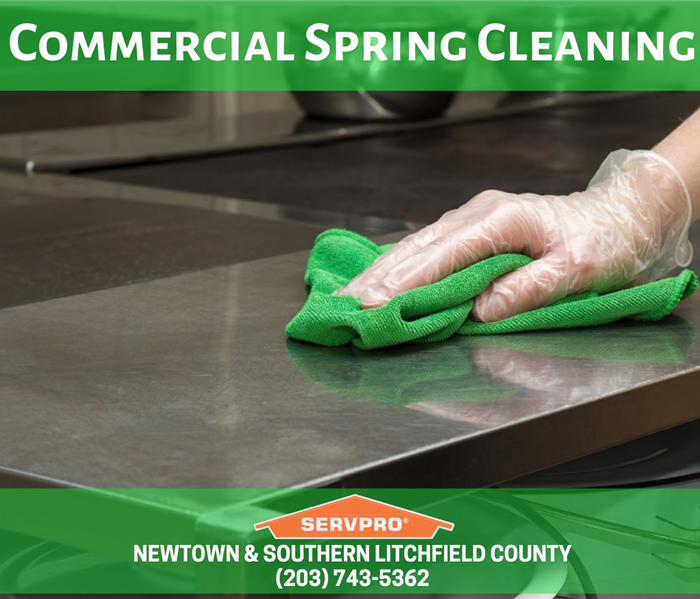 The birds are chirping, the thermometer is hitting the 50's and the sun feels warm on my face. Does anybody else feel like perhaps spring is arriving early this year?
Of course, we never know what the weather will bring and we can always have another snowstorm, however a look at the forecast shows warm temps for the next 2 weeks. If your commercial property is anything like ours, it's showing the wear that winter in CT always brings - dirty carpets and flooring, grime covering door frames and upholstery looking dingy. One of the best ways to start off the new season, other than stepping outside and feeling the warmth, is spring cleaning.
It's the perfect time to give your Bethel area business a good cleaning and SERVPRO of Newtown and Southern Litchfield County can help!
Apartment Complexes: Property owners know that people will be looking for a new home in the coming months. Their first impression will be the foyer, stairway and gym and it's vital that they are clean and show worthy. Have a tenant move out and leave the place with cigarette smoke and tar on the walls? We have the equipment and training to get rid of the stains and odors for you.
Carpet Cleaning: Our carpet cleaning service removes all of the salt, snow and dirt that has been tracked in over the winter months. Experts recommend that having them professionally cleaned every 12 months extends the life of your carpeting.
Waiting Rooms: We can also clean the upholstery in your New Milford office. Have the chairs in your waiting room been sat on for years without being cleaned? Is the office looking a bit dingy? Our technicians remove soil and stains from upholstered furniture and give it new life this spring! If your business has drapery, SERVPRO of Newtown and Southern Litchfield County has an exclusive process of dry cleaning draperies so that there is no shrinkage or damage to the material.
HVAC and Air Duct Cleaning: Have your HVAC system and air ducts inspected and cleaned prior to turning on the air conditioning for the summer. Our crew cleans your system to remove dust, pollen, odors, dirt and debris as well as other contaminants. Cleaning extends the life of your equipment and gives you, your employees and your customers cleaner air to breathe.
Industrial Kitchen Cleaning: Your Newtown restaurant has worked hard over the winter! While your kitchen staff does a fantastic job cleaning on a day to day basis, we have the training and equipment to degrease and sanitize your industrial kitchen. Have our crew come in and give the kitchen the cleaning it deserves with a top to bottom scrub down. We clean and sanitize freezers, refrigerators, ovens and ranges. Our team can clean your hard to reach places, such as high ceilings and light fixtures.
Have another commercial property cleaning need?
Chances are, we can take care of it for you. From animal feces to graffiti to broken glass, we're here to help!