Concerned About Coronavirus Affecting Your Business? We Can Help.
3/11/2020 (Permalink)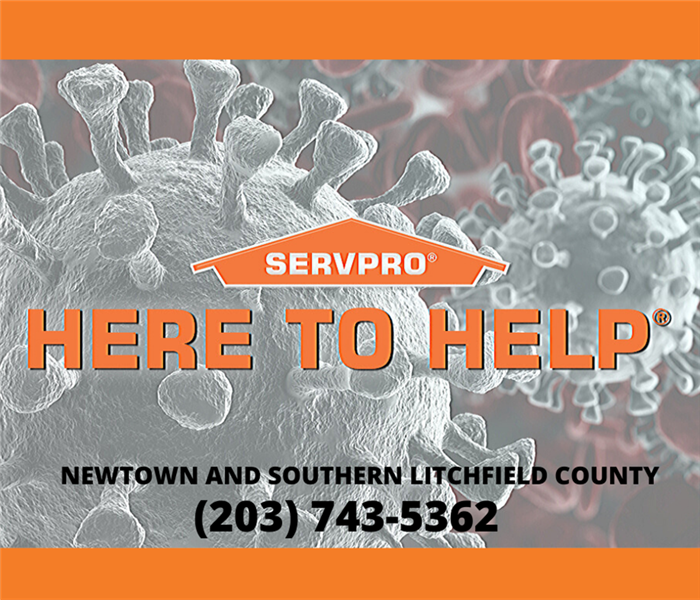 With the Coronavirus (SARS-CoV-2) quickly spreading through the Northeast and Governor Lamont declaring a Public Health Emergency over the Coronavirus, we have started to receive calls from business owners who seek to keep their business clean.
Here's how we can help.
SERVPRO of Milford-Orange-Stratford first cleans, then disinfects (with a hospital grade disinfectant) when cleaning a commercial space. Cleaning removes the soil and dirt that harbors the infectious agents, while disinfecting kills the remaining environmental pathogens.
Cleanup procedures generally include cleaning of porous and non-porous surfaces, disinfecting of non-porous surfaces, cleaning and disinfecting of equipment, tools, and/or supplies used for cleanup process, and disposal of waste.
The CDC recommends usage of a labeled hospital-grade disinfectant with claims against similar type organisms to COVID-19.

SERVPROXIDE™, SERVPRO's proprietary disinfectant, is a hospital-grade disinfectant that has demonstrated effectiveness against viruses similar to SARS-CoV-2 on hard, non-porous surfaces. In addition, SERVPROXIDE™ currently has dozens of EPA-approved claims including Feline coronavirus, Canine coronavirus, Staphylococcus (MRSA), E. coli, Salmonella, Rotavirus, Swine flu (H1N1) and more.
The CDC encourages the cleaning of high touch surfaces. In a commercial setting, this list includes:
Shelves and Racks
Displays and Mannequins
Packaged Inventory
Fitting Room Stalls, Chairs and Walls
Doorknobs, Light Switches and Lamps
Carpets and Hard Flooring
Computers, Telephones and Registers
Bathrooms, Toilets and Changing Tables
Sales Counters
Elevator Cars. Handrails and Escalators
Playground and Fitness Equipment
Lockers and Water Fountains
The list could go on but you get the idea. When you think about it, almost every surface in a retail setting is touched by many people each day. For more information, see the website that the CDC has created, Preventing COVID-19 Spread in Communities, which addresses homes, childcare and K-12 schools, colleges and universities, work environments, healthcare settings, and large community events and mass gatherings.

It's clear from the efforts of others countries that we can't stop the spread of the virus entirely however we can take what others have learned and apply it to the situation in Connecticut. Governor Lamont said he's talked to other governors, including the governor of Washington State, and what they have told him is that the only thing they regret is that they didn't do more sooner.
It is important to note that while proactive cleaning can help remove existing contamination, it will not prevent or protect the building from future contamination if an infected person was to enter and occupy the building.
Call us at 203-301-0500 to discuss how we can help your business.