With Spring Rain Comes Flooding at Newtown Commercial Properties
3/10/2021 (Permalink)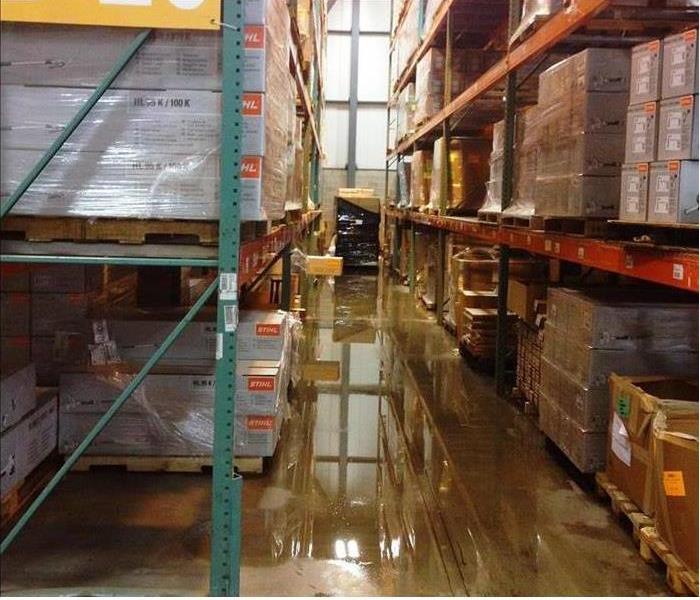 A look at the coming week's weather forecast for Fairfield County shows four straight days of rain. The team at SERVPRO of Newtown and Southern Litchfield County has seen many springs like this in our 22 years in business. We expect that we will be receiving an influx of calls from commercial property managers and business owners who have experienced flooding this week. Our trucks are stocked and crew members scheduled to respond to your call. Our technicians live locally and are able to respond to your call quickly.
We understand that the longer flood water and rain damage remain untreated at your commercial building, the more extensive the damage will be. When we receive your call, our first step will be to send a technician to your property to inspect and assess the damage.
If the inspection reveals that the water is from floodwater, such as groundwater seeping into a basement, we will create a restoration plan accordingly. Floodwater is considered to be black water because it can contain bacteria and pathogens that are harmful to humans. You will notice that our team will wear protective clothing and masks while removing the water from your property.
In the case of floodwater, any porous contents, such as carpeting and upholstered furniture in a waiting room, is likely to be discarded rather than cleaned to be safe. Our team has years of experience determining what can be salvaged after water damage and can assist you in this process. We offer our Contents Claim Inventory Service (CCIS), which provides a detailed and accurate list of your belongings. We take a room-by-room inventory of your contents, including digital photos, and in some instances, bar coding.
We have the technology to restore contents after water damage, including documents that might be important to your business. We are able to remove water from paper documents via dehumidification, freezer drying, vacuum freeze drying or vacuum thermal drying.
We know that as a business owner in the Newtown area, you cannot afford to be closed for a lengthy period of time. Your business is our business and we are dedicated to removing the water from your building and sanitizing it as quickly and safely as possible so that you can keep your business running without disruption.
For more information about our commercial water restoration services, please see our brochure. If you have any questions about our water damage restoration services, please call the office at (203) 743-5362.