Commercial mold remediation in New Milford
11/14/2017 (Permalink)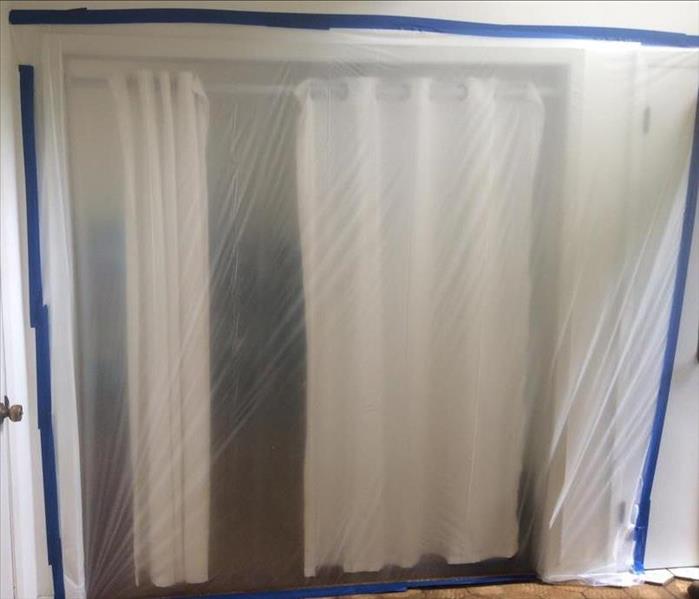 Part of our commercial mold remediation process is setting up containment to stop mold spores from spreading throughout the building.
If you have mold at your Bethel area commercial property, it can be a health risk for your employees and customers. You may also experience a disruption in your business because of mold. Mold is sometimes caused by a slow water leak or inadequate ventilation. Often it can go unnoticed until it creates a strong musty odor or visible signs of mold on the outside of walls.
If you have concerns that there may be mold at your business, call us. When you first call us, we will go through our inspection process with you and ask you some questions about the property. We will set up an appointment for one of our mold specialists to come out and inspect the property. We may need to remove some sheetrock to take a peek behind the walls if we suspect that is where the source is. Often, the mold is not widespread and we are able to recommend some preventative measures (such as having a plumbing or ventilation repair performed) to our customer.
In other cases, professional remediation is required. We will install contamination barriers in your business to stop airborne mold spores from spreading to other parts of the workplace. We will begin the remediation process and bring your building back to safe levels of mold spores.
Our mold remediation process is done with your business in mind. We aim to perform the work needed with as little disruption to your business as possible.Call us at (203) 743-5362 if you suspect that you have mold at your Fairfield County business.