Ice dams cause water damage to Sandy Hook homes this winter
1/8/2018 (Permalink)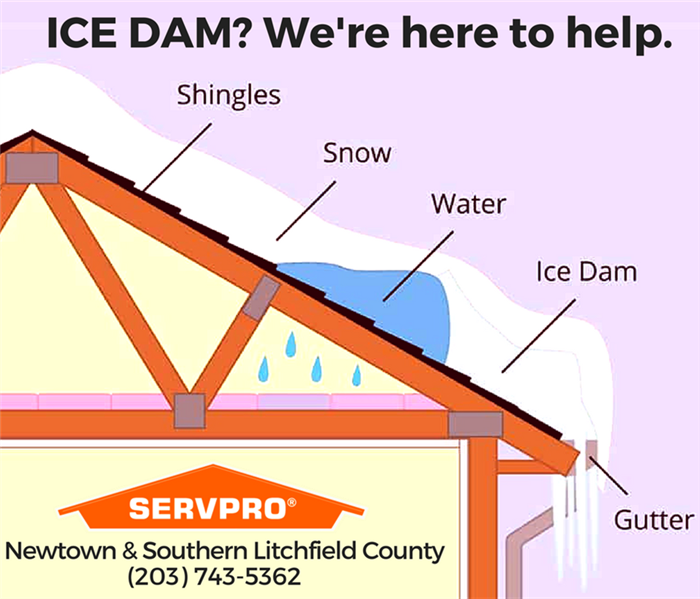 Ice dams can allow water to leak into the walls and ceiling of your home, causing water damage to your sheet rock and insulation. SERVPRO can help.
After the snowfall and freezing temperatures we have experienced in the last week, it looks like we will have a brief respite from winter's wrath. One concern that Brookfield homeowners may have after the storm is ice dams that may have formed on their roof.
An ice dam is a ridge of ice that forms at the edge of a roof. Typically, this happens after a snow storm, when there is a pile of snow sitting on the roof above your attic. After the weather warms to above 32 degrees and melts the snow, it causes the top layer to form into a mound of ice. The water trickles down between the layer of snow and the shingles until it reaches the eave of the roof, which stays cold because it extends beyond the side of the house. There, the water freezes, gradually growing into a mound of ice.
An ice dam can damage both your roof and the inside of your home because when the ice dam reaches its capacity, it begins to make its way under the shingles. When the ice melts, it drips into your home. The walls, insulation and ceilings of your home can become damaged. If left untreated, mold can also become an issue.
If your Fairfield County home has an ice dam, there are some steps that you can take to remove it.
1. Remove the ice dam by breaking it free in small pieces by tapping it gently with a blunt mallet. Work slowly and carefully so that you do not damage your shingles.
2. Use calcium chloride ice melter to weaken the ice. This will melt its way down through the dam, clearing a path for the underlying water to drain. Do NOT use rock salt, as it will damage paint and metal.
The SERVPRO of Newtown and Southern Litchfield County team is trained and equipped to restore Fairfield County homes that have water damage from ice dams. Call us at (203) 743-5362 if you have damage to your roof from snow and ice this winter.