What Can Be Saved After Water Damage in Your New Milford, CT Home?
4/23/2018 (Permalink)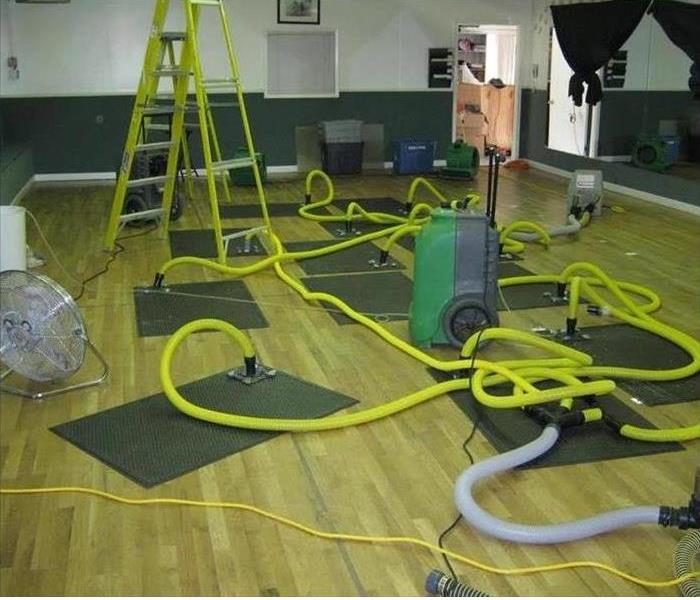 Our floor mat drying system extracts moisture from hard flooring such as wood and tile, allowing the floors to be saved rather than demolished.
Excess water, whether it be from a dishwasher supply line leak, a toilet overflow or a broken pipe, can cause substantial water damage to your home. Not only has a home been affected by flooding, often the contents of a home are damaged as well. SERVPRO of Newtown and Southern Litchfield County crew members assist our customers in determining which of their possessions are salvageable, and which cannot be saved.
We go through the contents of a home on a piece by piece basis and while each item is a unique case, we do use a few factors to determine whether it gets boxed, sent to our facility for cleaning or put in the dumpster.
The type of water that has flooded the home is an important factor in determining what stays and what goes. Clean water does not pose as much of a health hazard as potentially contaminated water does. If there is concern that water is contaminated from sewage or chemicals, we are unlikely to suggest it be cleaned. It's not worth the risk.
Typically, porous fabrics such as mattresses, pillows, carpeting and particle board cannot be salvaged. They absorb water quickly and are breeding grounds for mold spores to grow. However, there are cases in which we are able to clean area rugs and wood if we are called to the job quickly and the piece has not become oversaturated.
Our ability to be on the job quickly helps us minimize damage to personal possessions that have water damage. The perfect example of this is wooden furniture. It takes quite a fit of time for it to really absorb and become completely water logged. If you get personal belongings out of the standing water and begin the drying process right away, you have a good chance of being able to save them.
The SERVPRO of Newtown and Southern Litchfield County team has the experience in caring for the belongings of your Sandy Hook home. We understand that it can be difficult to part with treasured items, and do our best to help save them. If you experience a flood, calling us immediately at (203) 743-5362 will help minimize the damage.