We Provide Our Employees With the Highest Level of Mold and Sewage Restoration Training
5/9/2018 (Permalink)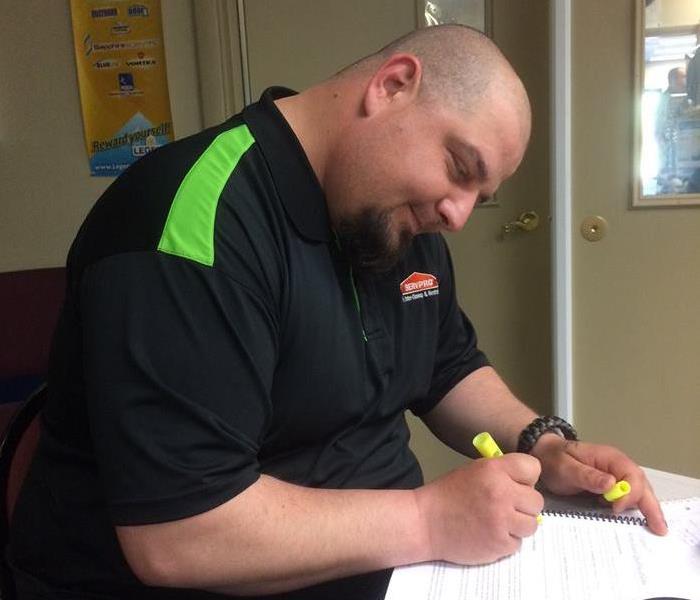 Our manager, Mario, at the IICRC Applied Microbial Remediation Technician Training, furthering his knowledge of mold and sewage restoration.
When you browse through our website, you might notice that our franchise specializes in more than water damage restoration. We also restore homes and businesses of mold, graffiti, biohazard, fire, smoke and soot. We have customers who call us for the commercial cleaning of their carpets and ducts. In an effort to meet the needs of our community, we even have a certified construction crew available to rebuild damaged areas of your home after the restoration is complete. An important factor in the growth of our company and giving our customers the highest level of service is providing our technicians with the necessary training.
At SERVPRO of Newtown and Southern Litchfield County, we believe that an investment in education for employees is money well spent. Our team participates in IICRC (Institute of Inspection, Cleaning and Restoration Certification) training courses throughout the year. The IICRC sets the standards for the cleaning and restoration industries. The mission of the IICRC is to promote high standards and ethics within the inspection, cleaning and restoration service industries and to advance communication and technical proficiency.
Two of our production technicians, Mario and Anthony, spent this week at an IICRC training course called The Applied Microbial Remediation Technician training. In this course, the guys received specific training in mold and sewage remediation. The course covered topics such as containment planning and strategies, microbiology basics, respiratory protection, bird and bat droppings, biocide uses, how to safely work in confined spaces, sampling and more. It may not sound like fun to most people, but they came back from the course excited about the new information they learned.
Not all restoration companies have the level of training that SERVPRO provides for its crew. When our team arrives at your house or business in response to your call about a mold infestation or sewage backup, their recommendations are based on the knowledge that comes from extensive training and years of experience. A failure to properly remove sewage and mold can create an unhealthy environment in your home.
Above all else, trust is the most important factor in our business. When you have experienced damage to your home, it's important to know that your restoration company is fully capable and working in your best interest. At SERVPRO of Newtown and Southern Litchfield County, we value doing the job right. We make the investment and take the time to provide continuing education to our employees so that they can best serve you.
If you have a septic backup or mold infestation in your home that requires remediation, give us a call at (203) 743-5362.