Furnace Puffbacks Cause Soot Damage in New Haven County Homes
10/22/2018 (Permalink)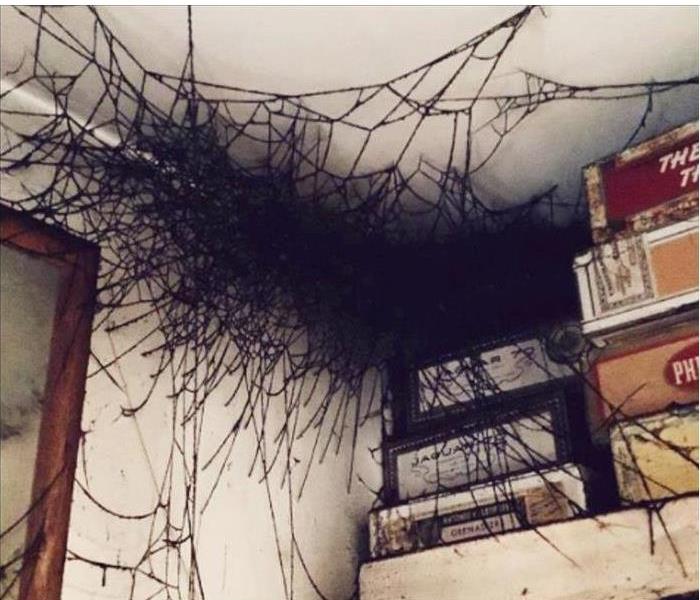 Furnace puffbacks leave soot cobwebs throughout your home in addition to a fine layer of oily soot on every surface of your home.
With the arrival of cold weather in the Milford area, the calls coming to our office take a different tone.
Winter brings calls from homeowners who have had burst pipes and chimney fires as well as furnace puff backs. A puffback is a messy furnace malfunction that occurs when an oil burner backfires, sending soot throughout the interior of a home. Puff backs happen when your oil burning furnace doesn't ignite when it should. This causes oil vapors to build up which results in an explosion when the igniter finally triggers. The result of this is soot and other debris is forced from the furnace's exhaust system. The soot then enters the homes heating system and gets blown throughout the home.
After a puffback, the contents of your home will be covered with a fine film of soot and soot cobwebs. Our crew observes that the damage is greater in homes with forced air heating or HVAC systems as they provide a pathway for the particles to disperse through the house.
If you see signs of a puffback in your Ansonia home, call your oil company immediately for an inspection of your furnace. The mechanical failure that caused the puffback will require repair. If a homeowner hasn't experienced a puff back before, they might mistake the soot on their surfaces for dust and attempt to wipe it away. However, soot cannot but easily wiped away- it requires specialized cleaning by your local SERVPRO franchise. Puffback residue cannot be cleaned up using traditional methods. Professional cleaning utilizes a treatment that is waterless and absorbs the soot in order to removes it. Draperies and carpeting requires chemical cleaning to remove the sticky soot.
Fortunately, puffback damage is covered under most homeowner's insurance policies. Our franchise also provides emergency heating while your furnace is being repaired or replaced. At SERVPRO of Milford-Orange-Stratford, we have the tools, training and experience to get your New Haven County home back to normal and properly remove soot in your home. Call us at (203) 301-0500 for immediate service after a puffback.